Each Monday is a good day to cook meatless. Besides being good for your health it helps save our human environment from the incredibly high carbon emissions of meat production. The main thing is the incredible tastes you get from vegetarian cultures around the world. I'm one of those people that sometimes has a hard time deciding what to cook for dinner. Hmmm, should I go Asian tonight or a Spanish rice dish? The clear answer here is "yes!"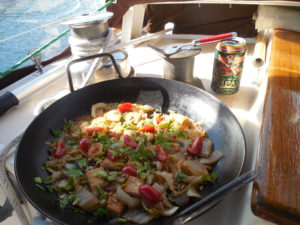 Shipboard Asian "paella"
This is a one dish recipe I prepare using spanish paella technique with asian  ingredients and spices.
Start by heating some sesame oil in a flat large skillet or pan. Brown tofu in oil. Add chopped onion, garlic, ginger and chilis. Once these are softened add chopped bok choy and saute until just soft.
Add rice, your choice (long grain, medium grain, arborio) about 1/2 cup per person and saute for a few minutes. Next add vegetable stock, (1 cup for each 1/2 cup rice you used) and a teaspoon of soy sauce or liquid aminos. From here on do NOT stir. Turn heat down to medium-low and loosely cover with a lid or with aluminum foil. Allow to cook for about 20 minutes. Remove cover and check whether the liquid is absorbed and the bottom layer of the rice is starting to brown. If not turn up the heat a little and carefully watch it. You are trying for a tasty caramelized layer on the bottom but don't want it to burn. Garnish with chopped cilantro, tomatoes, or whatever looks good to you.
Serve with extra chili paste and soy. Pairs nicely with a cold beer (but what doesn't?) Enjoy!