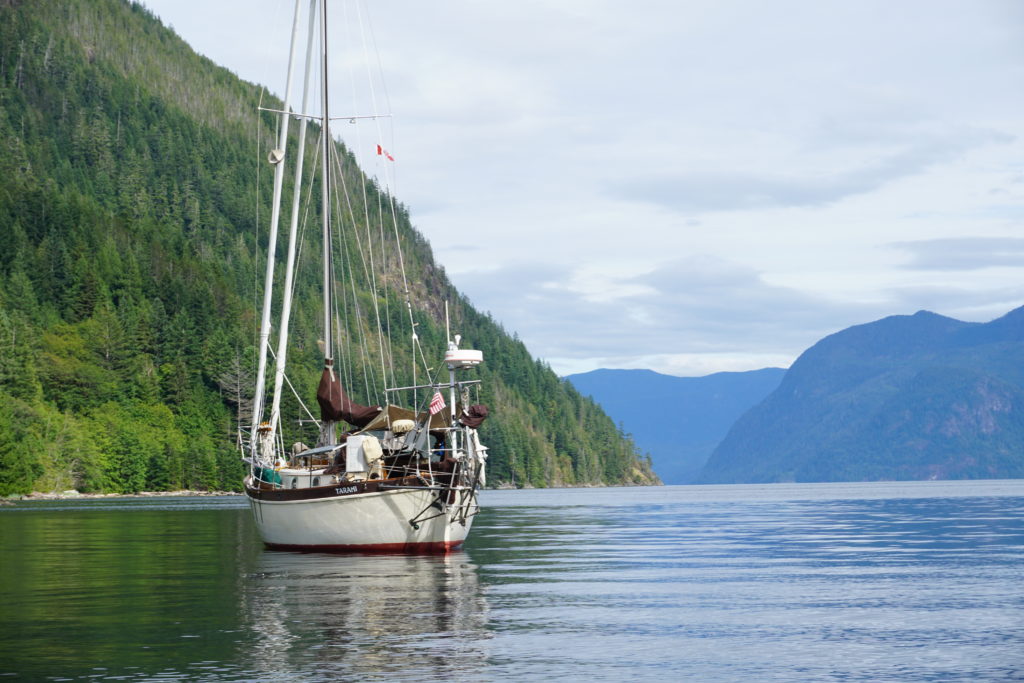 Frances Bay, looking towards Pryce Channel. 3 June 2016
We're anchored tonight in Frances Bay where a logging operation was active not very long ago. Its beautiful, its absolutely quiet and we have the place to ourselves. .The setting sun is lighting up the mountains on islands to the south of us, there are shear rock faces with ledges limned with mossy grass to the east rising up to a thousand feet or more. Not far away are the inlets of Bute and Toba that meander up to provide drainage for Canadian glaciers or if they be not glaciers are at least snow fields sitting pretty with snowpack in early June.
Besides the clear-cut, the remnants of the logging operation include the log and steel dump ramp that allows trucks and loaders to slide the logs down into the water where they can be lassoed and corralled by little tugs into rafts that bigger tugs can haul away to a mill somewhere. There is also a half submerged dock that is rimmed with old, very old tires and connected to a rickety ramp that runs up onto shore. The floats for docks or barge tie ups are old propane tanks. Several of these float in the bay resplendent in their salty rusty deep reddish patina.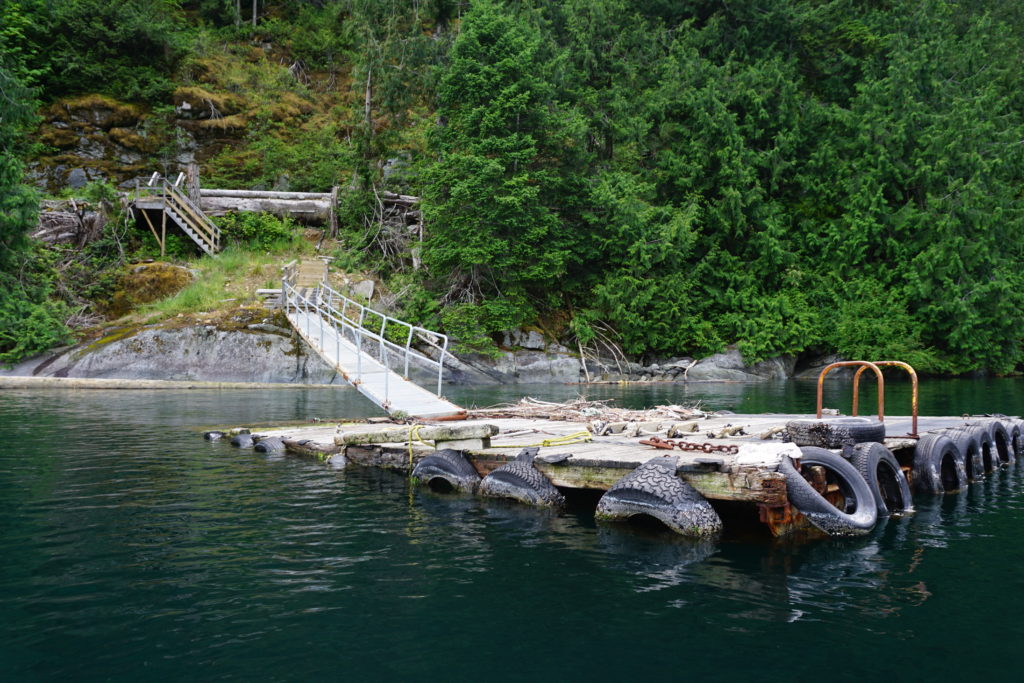 A northwest cruiser's guide book warns that the bay is mostly rocky and the bottom is foul with big greasy logging cables. Indeed our first effort at anchoring produced much dragging of the anchor across rock in 50' of water and much effort pulling the whole thing back up. The next time we dropped anchor much closer in to the old operation and crossed our fingers. The anchor went down in 35' of water and then we engaged reverse. It started to drag across some rock and we were reluctant to keep dragging it very far across the bay knowing that sooner or later it would snag on something bad. But just when we were ready to haul the whole mess up and get out of there it stuck. Whether its sunk into a nice patch of mud or on a humongous cable we won't know until we go to retrieve it in the morning. But we're probably safe for tonight so that's enough.
Its been three days since we left the hustle bustle of the big city behind. Our first night was in Pender Harbour, next night in Copelands Marine Park where the wind blew 25 knots straight into our anchorage starting at midnight and where we found out how very dark it is out here in the natural world. Last night was in Tenedos Bay in Desolation Sound, a very pretty and popular little spot . Its been a great contrast moving from big city to quasi-wilderness so quickly. And, best part of the story is that Karen invented a new drink. After cooking a tofu-green bean- mushroom curry dish tonight we had some coconut milk left, which when combined with kahlua, vodka and a little ice yields the eminently satisfying "Asian Caucasian". In other words, the dude abides!
Note: Internet connection is increasingly more difficult as we move north. This post, written for 3 June is just now being posted 6 June. Oddly I've got a connection just as we've turned around away from Johnstone Strait after having "poked our nose out". Seems the forecast for gale force wind today (NW 30-40) is developing. So we've turned tail and are running downwind back up Sunderland Channel to Forward Harbour. We will try to head back out on Johnstone Strait tomorrow. We will have to because we're almost out of beer.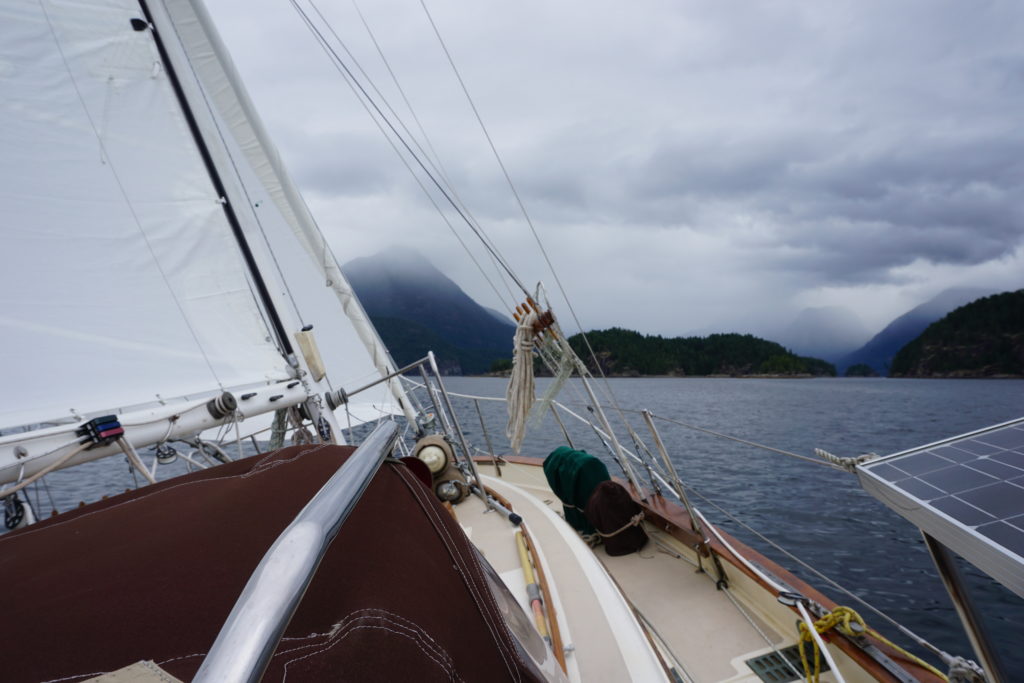 Sailing in Desolation Sound, 2 June 2016.