Johnstone Strait can be a son-of-a-bitch, but if you're heading on towards other parts it can be a helpful shake-down for both crew and boat. On our 2nd try we made it out of Sunderland Channel and into a rough body of water. Winds were SW at only about 15-25, but there was a ebb current heading west towards to Ocean. I guess it frequently tends to get rough at the confluence of Sunderland and Johnstone according to locals.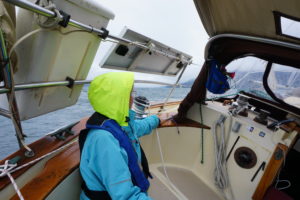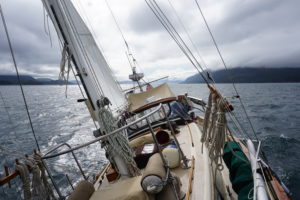 Once we remembered we were in a sailboat and got her set up to sail, and turned off the infernal combustion engine we did great. Tacking up Johnstone with a reef in the main and the jib furled in a notch or two made for an interesting morning. Had to keep a vigilant watch for major sized timber floating around.
By the time we approached Havannah Channel the wind had died right off. We were coasting along on the fumes of the breeze and sailed the last mile or two at half the pace of a dead man walking.
Pizza at Port Harvey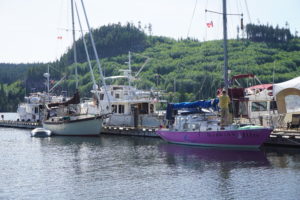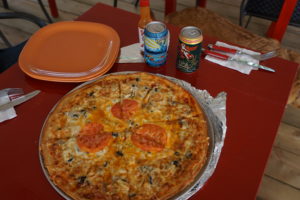 We'd planned to make a definite stop at Port Harvey marina to support the proprietors there, George and Gail who pretty much lost everything last fall she their barge sunk, taking down with it the restaurant, the store and gift shop. Everything except their home. And the dock. And the diesel generator shack.
We tied up right behind Darwind who had a similar Johnstone story to relate. We met the neighbors, all nice boats and people. Helped George move his 500# pizza oven underneath the party tent staked out on the dock. And gave him our order for pizza, veggie of course.
Pizza was grew, cinnamon buns delivered to the dock the net morning were great also. I encourage all cruisers to stop in an spend some money at Port Harvey. These folks are great.
Provisions at Port McNeill
Port McNeill was about the same as usual except I Karen and I tried a new restaurant this tine; "Sportsman's Steak House", not a spot that the average vegetarian gravitates to, as you might imagine. However, it was our 29th anniversary dinner spot and it was actually very good. Karen has grilled salmon over tortellini while I ordered the Veggie Greek plate that was chock full of excellent renditions of mediterranean goodness. Atmosphere was very nice, not "Sportsman" at all. Prices on their bottles of wine were very reasonable. We moved on to the pub next door for dessert as very happy campers.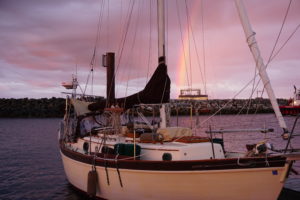 Rainbow indicates where I throw all my gold.
Crossing Queen Charlotte Strait we sailed sweetly to windward all the way into Blunden Harbour. There once again found John on Gypsy Woman and after dinner I rowed over to his boat and we had an Alaskan Amber. On return to our boat I told Karen we should deflate and stow the dinghy in preparation for rounding Cape Caution the next morning. (Note to self: get out of the dinghy before pulling open the valves that deflate all the sections. 2nd note to self: when you abandon the dinghy because its sinking try to take the painter with you.)
Next day, I almost puked rounding Cape Caution. We got some awesome sailing in but with 2 meter swell coming in from our stern quarter our boat likes to roll. Side to side. Tried to drink a lot of water and keep eating stuff, that helped. Once past Cape Caution we turned northward and it was a good downwind run to days end anchorage at Fury Cove. Got the stove going to dry things out and went to bed early as the rain continued.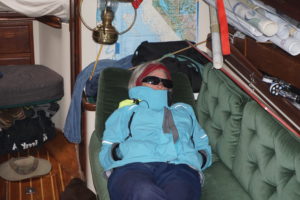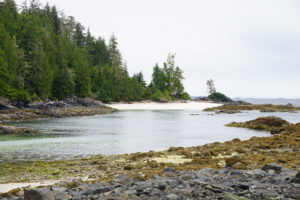 Fury Cove, off Fitz Hugh Sound