I asked Karen to show me "The Nipples", so she did. First she had to take us down the outside and it was a bit rough. Then she brought us up the inside and it was sweet and easy. This is the story of the trip from Sitka to Craig that took about a week.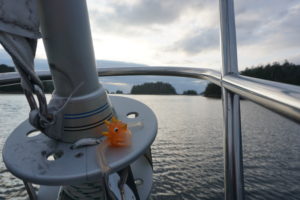 We left Sitka not too early in the morning, had some chores to do maybe. Oh yes, now I remember. I had to walk to the library on the other side of town and scam onto their free internet so I could post that last blog. It was easy peasy since no other fools were out inter netting at that time. Then we made a quick stop at the fuel dock and then we were off, heading southwest out the wonderfully intricate passage from Sitka out to the west coast of Baranof Island. We planned a short day so we could stop at Goddard Hot Springs. On arrival we found (sounds like a Fire/EMS report) s/v Balthazar who had shared Hanus Bay with us and who we had found out were from Montreal. Their's is one very capable offshore cruiser in a unique aqua marine color. They were in the very small cove just out from the NSFS hot springs shelters so we went into a little cove next door. We realized later at low tide how lucky we'd been going in because we just missed going aground as we blindly navigated a dog-leg into the place.
Once in however we went ashore in the dinghy and found the old cabin (now a Boy Scout cabin) and the old boardwalk (nicely renovated) that led over to the hot springs. We arrived at the upper hot springs shelter as a crew from a fishing boat were leaving below and as the Balthazar crew were coming ashore. We stripped down to our suits and tried to dip in but it was too boiling hot. It wasn't until we figured out how to work the drain and the hot and cold taps that we were able to take our baths. Once in the water it was oh-so-wonderful! It was hot, hot, hot and made us dizzy when we stood up. We soaked for about an hour until we got hungry.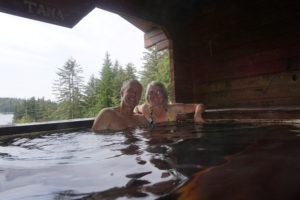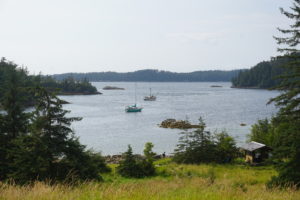 On the way back along the boardwalk trail we ate wild blueberries and couldn't stop giggling as we were singing stupid songs or jingles to let bears know we were too stupid to eat. We were still giddy when we got back to the boat. Next morning we sobered up at low low tide ("minus tide") as we really saw the immense obstacles we had dodged on our way in. No wonder no other boats were in here with us. We made it out fine though and then headed south for more challenge.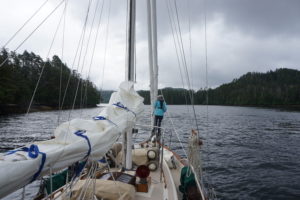 Dorothy Narrows, then First Narrows, then Second Narrows. All very tight and shallow little passages. Karen did bow watch duty watching the bottom about 8 feet below as we went ahead dead slow with our 5 foot draft. As we finally went through the last challenge to deeper water the swells remind us of the ocean outside. We headed out about 3 miles offshore and then raised sails to head south to the entrance to Sandy Bay. The 6 foots swells seemed much bigger and were pushing us in but the rocks on each side seemed pretty close as the waves were breaking on them. After we made it in we found a sweet little unnamed nook near a waterfall and settled in for sunset and happy hour.
Next morning out we went, followed closely by a fishing vessel and again headed west to gain a few mile offing from the shore before we turned south along the offshore coast. The forecast was for winds of 20 knot from the northwest with 7 foot seas and that's basically what we got. At times it was smooth going and at other times quite rough. One of became a little queasy, shall we say, after spending a little too much time below. At the bottom of Baranof is Cape Ommaney and the queasy one suggested maybe we could head around the Cape and head in to Port Alexander which seemed to be the closest landfall at the time. However when we turned in that direction we noticed the seas seemed quite confused. Weird little peaky waves were overlaid on swells from multiple directions. Very uncomfortable. When we turned back south towards our original destination the sea conditions seemed more tolerable. and the sails were pulling well. Coronation Island was only 18 miles away. The sun came out,the swells seemed to moderate and so our decision was made. Later the swells grew larger as we were basically in the body of water known as Dixon Entrance but the sails were pulling well and things seemed quite nice.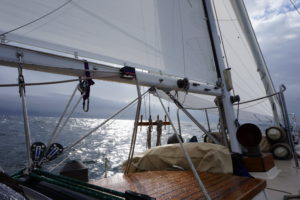 Coronation Island is a wonderful wilderness area. After dinner we went ashore and walked along the beach When we tried to walk into the forest we were stopped by deep deep moss and impenetrable forest. We could see and hear the whales at sunset out at the entrance to Egg Harbor and it was quite magical. One other fishing vessel came in to anchor about a half mile away from us.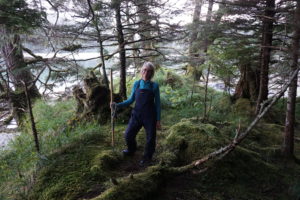 Next day we set out past a meandering whale towards the Spanish Islands and through a narrow passage then sailed up towards Sumner Strait. What a sweet day! Sunny and just enough wind to keep us moving smartly without the engine. Past Cape Decision and up to Shakan Bay we went. When we turned to enter Shakan Bay things got a little exciting ,instead of sailing downwind we were now on a beam reach and the late afternoon wind surge was coming up. Heeled over and struggling to control a weather helm we headed in. This was when we first caught site of those fabulous twin peaks, the notorious Nipples, high above the south shore of Shakan Bay. What a sight! Hard to describe the joy that The Nipples can bring.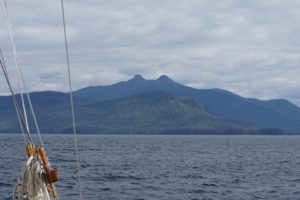 Thar be the nipples!
Soon however, we had to return our attention to dodging rocks and oohing and aahing at the many cute "little" sea otters. Twisting and dodging we finally found our way to Calder Bay at the foot of an immense 3500' limestone peak. Somehow the wind was blowing right into this protected anchorage but our anchor bit nicely and we laid out our usual 3:1 scope and settled in for the night.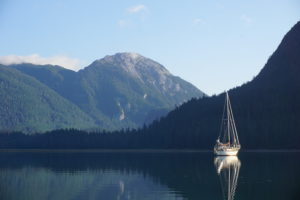 We left Calder Bay on a "minus" tide, 2 feet lower than low and headed for a skinny shallow stretch of water known as Dry Passage. This is part of the larger El Capitan passage. Wow, it was tight and tricky! We had to ignore the GPS mostly and just steer down the middle. At times we had about 5 feet of water under our keel and it required a lot of slow going and careful attention. It was beautiful, however, with lots of birds, river otters and deer. We only saw two kayakers and no other boats during the 2 hour trip.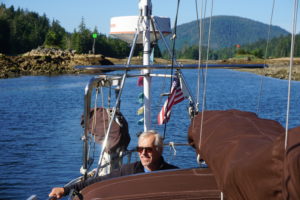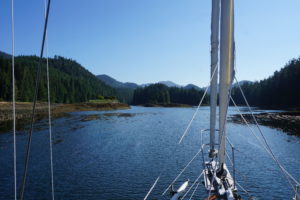 For a break we pulled up to the Forest Service dock at El Capitan cave and we got lucky and were able to sign up for a tour of the cave. Helmets and head lamps were provided and two geology majors working as summer interns, Alex and Carl, took us in an pointed out various features and fossils. It was a very cool experience, at one point we stopped and turned off all lights and just sat and listened to the sounds of water dripping though the limestone
.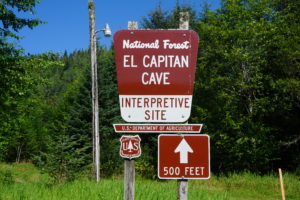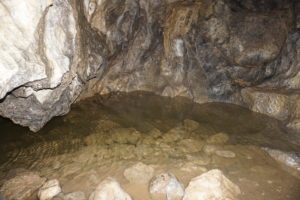 We had a leisurely sail down to a tiny little nook that had no name but which was very protected and a great place to watch an amazing summer sunset. Next morning dawned fresh and clear and we made our way through a labyrinth of tiny little islands, lots of rocky reefs, a few sections of "narrows" and out onto Sea Otter Sound and across the Gulf of Escabel to Craig. A couple times we had the wind come up quickly and strongly and we were able to sail. At the end of the day we were flying downwind at hull speed (our maximum)with only our two head sails set out in a wing and wing configuration. Very exhilarating it was when we turned aside and entered into a protected anchorage through a cauldron of reefs with waves breaking over them. We were glad to have a tiny little patch of quiet and calm where we could watch kingfishers and eagles soaring above, seemingly stationary as they were gliding in place about a hundred feet up.
We're hanging out in Craig for a couple days, doing chores and searching for that original Craig's List that we think is around here someplace. Next challenge as we head south is rounding Cape Chacon and crossing Dixon Entrance. Hoping for some decent weather.