The Good The (not too) Bad and The Ugly
Prince Rupert
It was good it didn't rain the whole time we were there.
Too bad, the Wheelhouse Brewery tasting room wasn't open while we were there.
The sunrise on our day of departure was "ugly" (red sky at morning sailor take warning)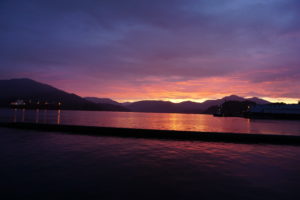 Dundas Island
Nice quiet anchorage just south of US-Canada border.
Bad biting sneaky little bugs found us after we went to sleep even though we tried to hide.
Ugly scabby sores that take a week to heal.
Dixon Entrance
Good sunrise as we got underway at 0430 (0330 AK time).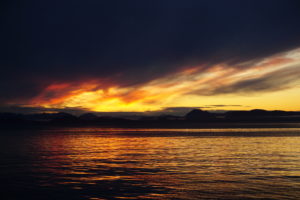 Not much wind but conditions much better than NOAA or Environment Canada forecasts. Not bad.
Ugly Hair Day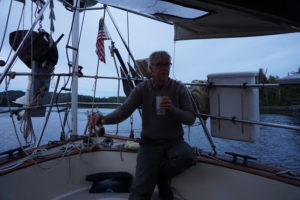 Ketchikan
Good people and good bars (The Asylum, Arctic Bar, Sourdough and its gallery of shipwreck photos, thePotlatch,etc.)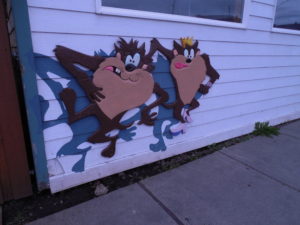 Bad red-light district on Creek Street (where men and salmon go up to spawn.)
Ugly humongous cruise ships, about 4 at a time. Also ugly was the driver of this antique fire engine in a picture at KFD's museum.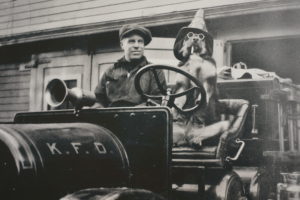 Clarence Strait
Good sighting of a humpback whale feeding as we left Tongass Narrows and headed up Clarence Strait. Forecasted SE 15-20 winds and 4 foot seas seemed overly pessimistic, conditions were much more benign so we headed across.
An hour or two later,after we were committed winds picked up to what was forecasted, Tarani showed her usual tendency to roll in a quartering sea.
Things got exciting maybe even a little ugly as wind picked up further. NOAA now issuing an updated forecast of wind SE 25 and 5 foot seas. We had all of that and a little more. Reefed sail then reefed again. Winds gusting to near gale force, took the main down, was still making about 5 knots with bare poles. Last hour or two was surfing downwind with staysail only.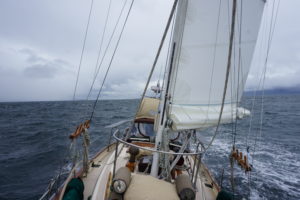 Meyers Chuck
After a nice tight entry, crabbing through rollers between foamy rocks we found a totally calm haven and an open dock to tie up to. Good. Very Good.
No bad and no ugly, just a beautiful quiet scenic place. Kayakers Donna and Don, paddled in between showers. They're a middle-aged couple (like us, haha) who are paddling from Bellingham to Juneau. Actual adventurers. Also met Tom and Anita of Spirit Quest here who are from Port Townsend and had been a couple slips down from us at Point Hudson. Small world.

Posted from Wrangell. Next internet probably in Juneau in about 1 week's time.