Today we had beautiful weather in Port Townsend! So, no excuses but to take on Karen's priority project which was to refresh the Cetol coating on our brightwork (the wood trim on our old classic.) 90% of the work was dusty, dirty and dull. We had to connect vacuum to sander and rig an over-the-side tarp to prevent any scrapings from getting into the water. But finally got her done.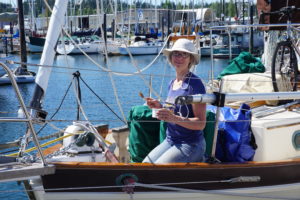 Meanwhile, our neighbors on "Alcyone" were doing the same. Although their task was larger given the awesomeness of their vintage wooden vessel. However,once they left for the day Karen asked what flag they were flying from their stern.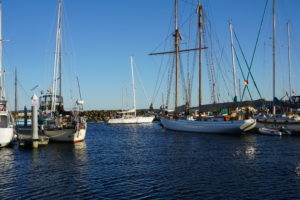 For a closer look at the diagonal red over yellow flag, scroll up to see the pic in the logo section:
What does it mean, mariners? (A possible hint, this is the "O" – Oscar flag) Why are they flying it?
2nd hint: Its a trick question!
Reply with your comments. Or, answers to follow in tomorrow.
Peace Out!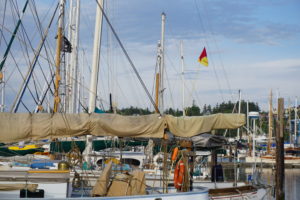 A: The "O" flag when flown alone signals Man Overboard. It would not be expected from a vessel tied to a dock in a marina, that's the tricky part. If you remember the owners were working on Alcyone's brightwork and so they moved the man overboard float from its customary horizontal storage position near the rail. Tricky false flag.